Reasons behind Sarah Hyland and Domanic Sherwood Breakup, and current relationship status
Every relationship is special snowflake until it dissolves. Unlike of rest of the relationship, Sarah Hyland and Dominic Sherwood's relationship encountered an unprecedented end. Stay with us and know how it all came to an end with a mutual climax.
Recently reported hot cake of this fortnight is like the iceberg of love dissolved in the chest of the vigorous ocean. Sarah Hyland and Dominic Sherwood announced publicly about their mutual break up after dating each other for two years. Wait, there is more to be revealed.
Break up portions:
As per Sarah Hyland and Dominic Sherwood, their relationship has simply run its course and they gonna remain friends forever. Just imagine what could be the reason for their sudden breakup.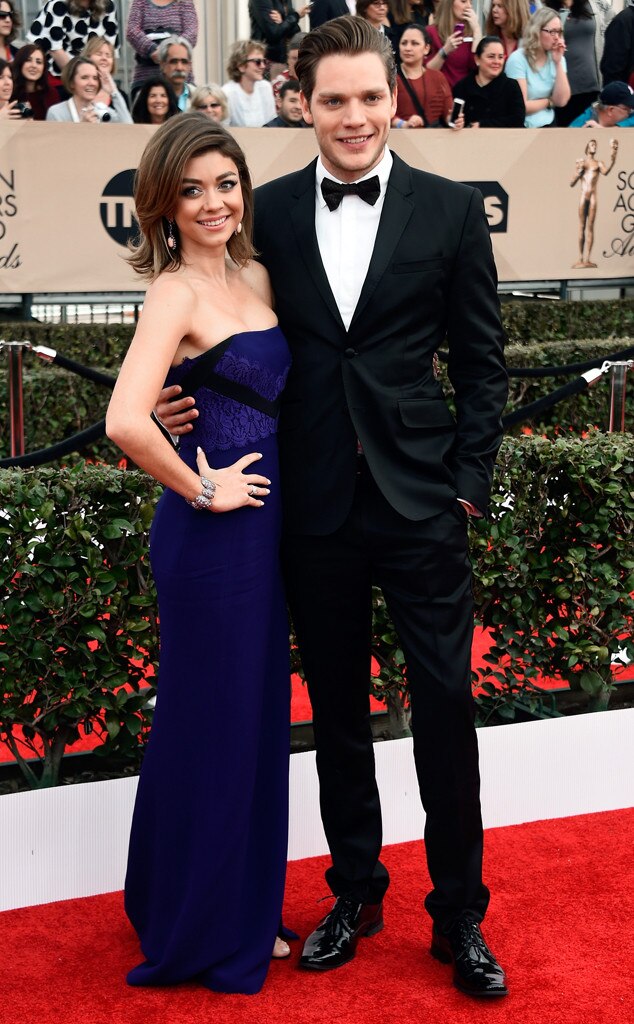 Source: images.eonline
Sarah Hyland and Dominic Sherwood.

Their affair didn't long too far after their two-year anniversary. The 26-year-old Modern Family actress and the 27-year-old Britsh Shadowhunters actor genuinely came to the crucial junction and made their own way out of their existing relationship with the new dimension of true friends.
Source: dailymail
Sarah Hyland and Dominic Sherwood together.
Furthermore, through the current status we can figure it out that they actually had a clean break up as neither of them have officially addressed their split and still, their photos are scrolled in the social media.
On top of their sweets moments:
Deep down you know it's true, they were really caring and loving for each other and never missed a birthday wish post. "When you can't stop smiling because of how proud you are of your man @domsherwood for not only being phenomenal on an amazing tv show but for tying his own bow tie," Hyland posted on the Instagram, heart emoji included.
Hyland happy with Sherwood.

Despite their separation let's jump right in the past moment which they happened to spent with a happy heart. In February 2015, Hyland and Sherwood spent Valentine's Day at Disneyland as well as they were shot kissing outside Hollywood nightclub. Similarly, on the very October togetherly they adopted a puppy named Boo and joined Hyland's dog, Barkley, too.
Source: justjaredjr
Sarah Hyland and Dominic Sherwood adopted a dog.

On the following April, Hyland told ET that " He's amazing. He's an amazing person." We are almost half a way to their beautiful moments, there's even more. Let's dig a little deeper.
Source: pictures.zimbio
Sarah Hyland and Dominic Sherwood snaps.
Sherwood was found sharing a photo of Hyland on Instagram with Boo in the past Valentine's Day and he wrote," Happy Valentine's Day!" to her. Eventually, they were seen together in many high profile celebrity events, including movie premieres, the SAG Awards, the Teen Choice Awards and Oscar, Emmy and Golden Globe parties.
The affair:
The iceberg of their love became public in March 2015 when the movie Vampire Academy made them together in 2014. In the later days, they were spotted smooching at a Los Angeles Lakers game at the Staples Center. In the late February, they celebrated their two-year anniversary and made a post in the insta writing," Happy 2 year to my #1 @domsherwood <3."
Hyland and Domsherwood in two year anniversary.
Sarah has been in the relationship with Max Ehrich from 2007 to 2008 previously. Furthermore, she was in the relationship with Matt Prokop for five years and six months and recently broke up with Dominic Sherwood after two years of relationship. Whereas, Dominic has no records of his past relationship with anyone except her.
At an end, there is a saying that " A stitch in time saves nine." Likewise, Sarah Hyland and Dominic Sherwood split may be the same reason because once the relation is ruined it can't be taken the same way but for them, they are still the good friends. Let's wish them for their bright future where ever they are.