Know all about Louis Tomlinson's personal life and Relationship
You all must have heard the famous boy band 'One Direction', which consists of previously 5 and currently 4 singers. Louis Tomlinson is one of those singers and songwriters who is very charming and has an extremely pretty voice.
Tomlinson was born on 24th December 1991 in Doncaster, South Yorkshire, England. You are now about to know all the girlfriends he dated and his personal life.
Is he married? Who did he have a son with? Who is he dating currently?
His first girlfriend was during his school age, Hannah Walker, who pushed Louis for X-Factor audition. He all must thank her, as, without her, Louis wouldn't have been where he is now.
His next girlfriend was Eleanor Caldor (2011), which ended after a pretty long period. This relation lasted for 4 whole years. Soon after he broke up with Eleanor Caldor, he started dating Lucy Julian. In 2015, again he started dating Briana Jungwirth and fathered a child together in 21st January 2016.
After this, he again broke up with Briana and started dating Danielle Campbell. He even claimed during the first three months of the relationship that he wanted to marry her. But, unfortunately, after a year, when Louis's mother died of cancer, they split up. And in 2017, he again started dating his ex-girlfriend Eleanor Caldor and they are still happily dating.
Also read: Here is everything you need to know about Nate Ruess's Love life and Net worth
However, you should hear one bad aspect of Louis as well. He was arrested for battery after attacking a paparazzo at Los Angeles International Airport recently on 4th of March, 2017.
source: daily mail
Caption: An Emotional picture of Father Louis Tomlinson and son Freddie ?Tomlinson
Later, he was released on $20,000 bail. But despite being a bad boy, we still like him for his charming face and his heart touching voice. We love you, Louis Tomlinson!!!
Louis Tomlinson's

Personal life

Louis is the youngest son of Johannah Poulston and Troy Austin. He has a huge number of sibling's i.e.7. His mother died because of leukemia recently in December 2016. He was educated at Hall Cross School where he appeared in several musical productions and 'Hayfield School'.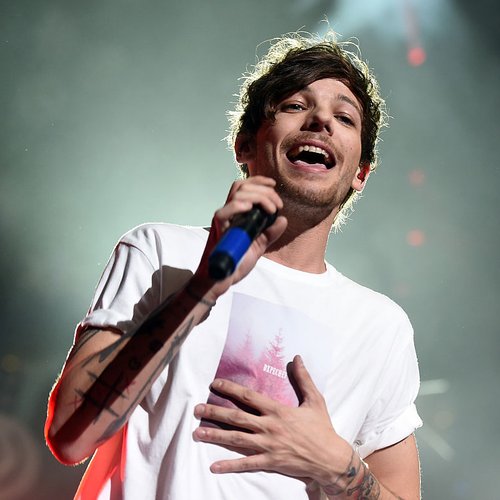 He made his debut as a singer when he auditioned for 'X-Factor' in 2009, but failed to make it to the final. He re auditioned on 2010 and was put in a band with other boys and named the band 'One Direction'. It's amazing how an X-Factor contestant is now a world renowned musical star. After all, TALENT!!!
He began his career as an actor by initially appearing in ITV drama, 'Fat Friends'. He later got involved in other TV series as well but gave singing his first priority. Now, let's talk about his relationships and affairs without getting upset.