Diane Macedo and her Husband Thomas Morgan Married since 2013, Learn about their Married Life
An American news personality, Diane Macedo currently working for ABC news. She started her career as a guest booker for Fox News Radio.
In a short time, she was promoted as an editor and reporter of Fox news. She is happily married to Thomas Morgan since 2013.
Is their married life going smoothly or they are having any difficulty, let's find out about their marriage, children, and family life.
Diane Macedo' s Married Life with Thomas Morgan
They got married in 2013 at One Great Street, Westminster. Because of her popularity, her marriage was the talk of the town. Have you heard about Buddymoon? Yes, rather than celebrating a honeymoon, they celebrated buddymoon. They spent their time with their friend and family.
They went to Portugal for a week-long tour with their family and friends.
"It's not for everybody, but it was for us, "I was happy to do the extra work to make it a little more worth [our guests']while. We can travel whenever we want, so we figured we'd take advantage of our friends being there."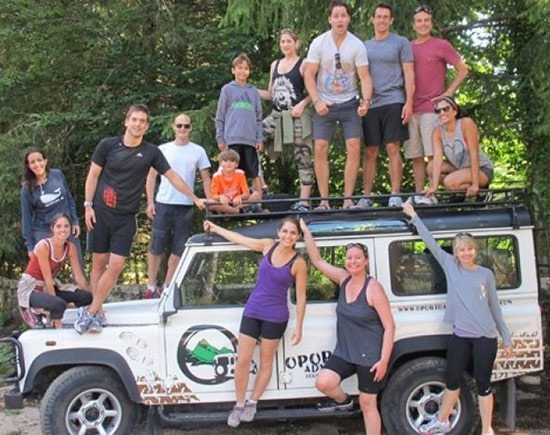 Diane and her husband Thomas with their family and friends. source: Pinterest
She is an avid traveler and has visited many places with her husband, she had posted a picture with her husband.
Might be my favorite pic of the whole trip ??. #hubs #lagunadelostres #elchalten #argentina #patagonia #fitzroy #hiking #travel #skylake

A post shared by Diane Macedo (@dianermacedo) on Jan 30, 2018 at 8:48am PST
Does Macedo has any children?
Macedo and Thomas have been married for almost 6 years and the question about their children is prevailing.
She has posted a photo of a child on her Instagram page. Her followers commented if the child was her?
#frankthebuns enjoying qt with his new sitter ????

A post shared by Diane Macedo (@dianermacedo) on Jul 16, 2017 at 9:12am PDT
To clarify she replied,
To clarify this is not my child. My good friend is watching Frank for us while we're on vacation. This is her adorable son who LOVES Frank.

Diana Macedo and Thomas Morgan together have a child. Their baby boy was born on November 28, 2018.
She also posted pictures along with her son on her Instagram and Facebook profile.
Beautiful anchor Macedo has a beautiful voice too. She is the lead female singer for a musical ensemble Tribeca rhythm. Besides that, she is an avid traveler, she regularly posts her pictures on Instagram and Facebook. She traveled to Guatemala, Croatia, Portugal, Argentina, and many more places.
If you want to see her pictures and latest updates, one can follow her on social media. As she has, 37.5k followers, 1,474 posts, and 585 following on Instagram.